SNAGI-beta
Sino-Agchem Intelligence

Agranova produces technical and commercial information on the global agrochemical industry and its products. During the past five-eight years, its activities have increasingly focussed on the emergence of China as a producer of active ingredients. Understanding the production of these chemicals is a challenge for companies based in Europe and the Americas. In recent years, Agranova has spent much effort in gathering information on Chinese agchem manufacturing companies, the active ingredients they make, the technologies they operate, and their production capacities and export portfolios. It has expended even more time and effort maintaining this information as up-to-date as possible.

The data has been collated into SNAGI - an in-house Chinese agchem manufacturers data retrieval system. It was recently decided that this information should be made available to interested clients. Although the company profiles in SNAGI have yet to be completed / finalised (which is why we call it a Beta-version), the following data is available and may be readily searched by using our simple, but elegant, interface:


Registrations of technical compounds (TCs) lodged with the Chinese regulatory agency, ICAMA (mainly 1-year (LS) and 5-year (PD) certifications)
Names and locations of over 900 companies holding these registrations and validity information
Lists of company TCs (888 currently listed), together with (in many cases) basic contact details and names in Chinese as well as English. Note that only the Chinese name has legal validity in China.
An interactive map that allows information to be searched by Chinese provinces
The database is available online at Agranova's online services websites and can be quickly searched after entering a username and password.

The introductory price for an annual subscription is GBP 750.00

For more information and for setting up a subscription, please enquire.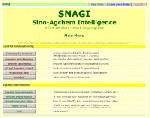 Brochure/order form
Screenshots