About us
Industry intelligence
Technical insight
Specialist services
Prices / ordering
Free resources
Contact us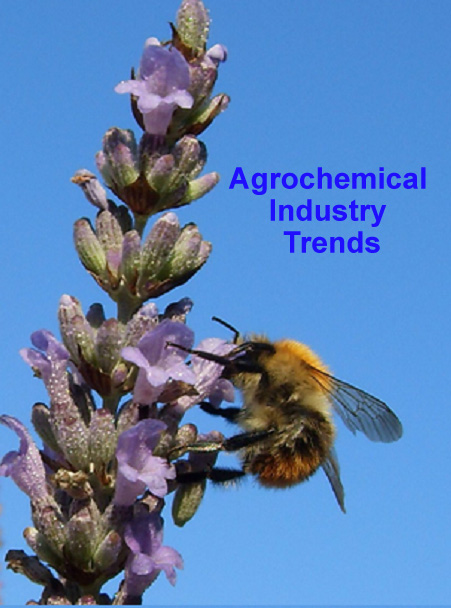 Articles


We regularly contribute articles and commentaries on topics of interest to the agrochemical and chemical industries. These appear in leading industry publications including: Speciality Chemicals, Agrow, Agrow Magazine, C&EN News, Chemical Week, CMC (Japan) and Chemical Weekly.

Agranova has permission to offer free downloads of articles to visitors and a selection of the most recent are available here:

Agrochemical industry trends 1970 - 2017
A global overview. (December, 2017)
Click here to download / view the Powerpoint presentation (.pps file [500k])

What the agrochemical industry can teach the pharmaceutical industry
- how better processes can reduce the prices of medicines based on synthetic chemicals. (May, 2016)
Read more . . .

Fine chemical technologies for novel agrochemical ingredients.
(A talk by Dr Rob Bryant at the 33rd SCI Process Development Symposium, Churchill College, Cambridge, April 2016).
Read more . . .

Agrochemical active ingredients: better ways to make them
The European Fine Chemicals Group Conference 2014 (Budapest, June 2014)
Read more . . .

Treatments for nematode infestations - novel agrochemicals under development
The AgroChemical Conference 2013 (Newmarket Racecourse Conference Centre, UK, November 2013)
Read more . . .

Agrochemical pest control: new active ingredients are still needed
The AgroChemical Conference 2012 (Newmarket Racecourse Conference Centre, UK, November 2012)
Read more . . .

Innovative pesticides are what the world needs
(CCPS Conference, Shanghai, China, March 2011)
Now that resistance to pesticides is a globally established problem, Dr Rob Bryant proposes that investigating pesticidal modes of action is where to look when embarking on new crop protection active development programmes.
Read more . . .

Agrochemical R&D - hard work and money is not enough
(AgrochemEx Conference, China, October 2010)
The intangible concept of creativity is the important starting point for any process of discovery or innovation. By providing a historical perspective, Dr Rob Bryant argues that just simply increasing the budgets of R&D departments is not the most intelligent solution to the continuing global problem of finding new agrochemical activity leads.
Read more . . .

Asia leads the way (Agrow, March 2008)
Dr Rob Bryant reviews the development, commercialisation and maturation of agchems in a year when the weather, escalating costs and changes in global planting patterns have created interesting challenges for the industry.
Read more . . .

New developments in Chinese agrochemical R&D (Agrow, October 2007)
No longer just manufacturers of generic pesticides, Chinese agrochemical companies and research institutes are increasingly developing their own active ingredients says Rob Bryant.
Read more . . .

Crisis in innovation (Agrow, June 2007)
There is little doubt that R&D in the agchem industry, and to a lesser extent the pharmaceutical sector, is in the doldrums. Dr Rob Bryant contrasts the fortunes of both industries to find out why these science-based industries appear to be failing to innovate.
Read more . . .

Matching technical and market intelligence needs with resources (Speciality Chemicals Magazine, October 2003)
Dr Rob Bryant of Agranova looks at how buyers of agrochemical markets, products and chemical intermediates can select the information that best suits their specific requirements and offers some thoughts on how to match a company's needs with the market intelligence available.
Read more . . .

Agrochemicals in Perspective (1999)
Analysis of the worldwide demand for agrochemical active ingredients. Synopsis of a talk presented at the Fine Chemicals conference 1999 by Dr Rob Bryant.
Read more . . .